This website was created to share with the viewer some of Long Island's historic venues and events. The content on this site was listed as accurate as possible and this site shall not be responsible for any inaccurate information. Please contact the webmaster at: info@visithistoriclongisland.com for more information.
Terry-Ketcham Inn, Center Moriches
Book Barn, Ketcham Inn
John Scudder/Mary Pelletreau Havens Homestead, Center Moriches
Suffolk County - Brookhaven/Center Moriches
Historic Site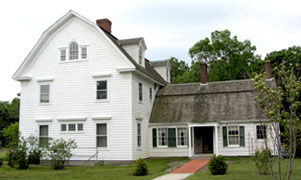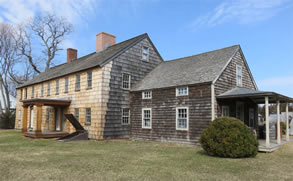 The Book Barn, on the Ketcham Inn premises, offers a variety of gently used books. It is a resource of funding for the restoration efforts. Open Thursday and Friday 1 pm - 5 pm and Saturday and Sunday, 10 - 5 pm.
Ketcham Inn, built in 1693 was a historic inn and tavern. Originally built as a single story frame cottage, it was expanded to a two story structure with a rear wing and gable roof about 1710 and 1790. It once hosted two presidents, Thomas Jefferson and James Madison. The inn represents life in 18th Century Long Island. In 1989 a small group of local citizens was formed to clean the inn. The group incorporated to form the Ketcham Inn Foundation. In 1993 they purchased the land. The kitchen c. 1955 has been remodeled and is currently the office and keeper's quarters.The foundation continues to raise funds for restoring the structure to its original condition. The inn observed the first phase of restoration on July 4, 2015 with a public reception. The inn provides educational programs and events are held during the year. The Book Barn, adjacent to the inn is open. Ketcham Inn is listed on the National Register of Historic Places.

81 Main, Center Moriches
631-878-1855
15 Montauk Highway, Center Moriches
631.878-1855

1 block east of Ketcham Inn
The Havens estate c.1740 includes a farmhouse with a 1885 addition and the Tuttle Barn. The house has been restored and reflects both Colonial and Victorian life. On display are local memorabilia, Indian artifacts, early tools and furniture. The Havens genealogy has just been completed and there is a visual presentation of it in the room adjacent to the kitchen. Gift Shop in barn, open Sundays, 10 - 4 pm. Call to schedule a tour of the house.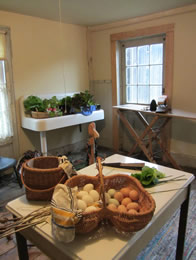 Call for schedule for public tours.