This website was created to share with the viewer some of Long Island's historic venues and events. The content on this site was listed as accurate as possible and this site shall not be responsible for any inaccurate information. Please contact the webmaster at: info@visithistoriclongisland.com for revisions or information.
St. Anne's Church, Sayville
William Floyd Estate, Mastic Beach
The Manor of St. George, Smith's Point
Plan Your Trip
Suffolk County - South Shore - Town of Islip • Brookhaven
Historic Site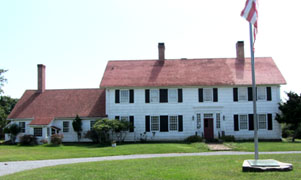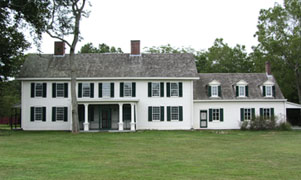 This estate c 1718 is the ancestral home of William Floyd, a general and a signer of the Declaration of Independence during the Revolutionary War. The estate includes a 25 room house, twelve out buildings and a family cemetery on 613 acres of fields, trails and marshes. The house is furnished with artifacts which belonged to eight genertions of Floyd family members. This site is maintained by the US National Park Service and is a part of the Fire Island National Seashore
This 18th century house was home to Col. William Tangier Smith. He was granted the land in 1653 for his services to the crown. The British occupied the original house c 1709 during the Revolutionary War and had a fort built nearby (both were destroyed by Major Benjamin Tallmadge's army). The house
c 1810 was rebuilt after the war. Estate includes colonial-era documents, furniture and portraits.
St. Ann's Church c.1888 is listed on the National Register. Designed by architect, Isaac H. Green, Jr., it is the first stone church built in Suffolk County. Built in the Norman architectural style the church displays Tiffany windows. Also on display is a plaque dedicated to Edith Corse Evans, a parishioner who went down with the Titanic. Its adjoining cemetery includes the graves of General de Trobriand, Isaac H. Green, Jr., the Roosevelts and many authors, actors and actresses. St. Ann's Historical Society gives tours of the church, cemetery and grounds. For reservations call the church office, 631-589-6522.
257 Middle Road
Sayville, 631-589-6522
William Floyd Parkway & Neighborhood Road
Smith's Point
245 Park Drive
Mastic Beach, 631-399-2030