This website was created to share with the viewer some of Long Island's historic venues and events. The content on this site was listed as accurate as possible and this site shall not be responsible for any inaccurate information. Please contact the webmaster at: info@visithistoriclongisland.com for more information.
1795 Dr. Daniel Kissam House,Huntington
Suydam Homestead, Centerport
The Arsenal, Huntington
Plan Your Trip
Suffolk County - North Shore - Huntington
Historic Site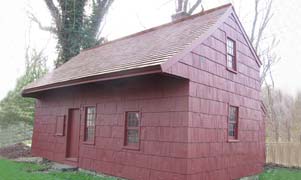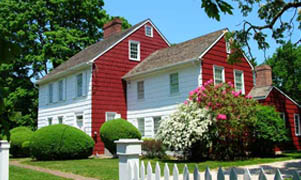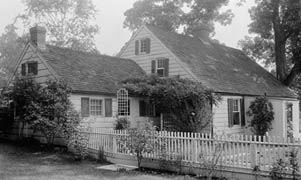 The Suydam House c. 1760 was originally built as a one room dwelling. It was enlarged c1760 with the addition of a lean-to kitchen. Towards the end of the 18th century the house was extended to include a gabled roof, central chimney and three fireplaces. With the help of the Greenlawn-Centerport Historical Association the house has been repaired and converted into a gallery that displays historical artifacts discovered on the site. A barn (non-historic) was built on the property that currently displays a collection of furniture, farm tools, wagons, clothing and household objects. The house is listed on the National Register of Historic Places.
The Arsenal was the home of Job Sammis, a local weaver who hid stores of gunowder in his attic prior and and during the onset of the British occupation during the Revolutionary War. Today the house is a museum furnished as it was in the 18th century. It is used by the Order of the Ancient and Honorable Huntington Militia for their monthly meetings and special events throughout the year. All other times the museum is open by appointment. Call the Town of Huntington Historian for visitation.
The house was built in 1795 by Timothy Jarvis and first occupied by Dr. Daniel Whitehead Kissam. It is noted that it represents one of the finest examples of the three-quarter plan houses on Long Island. A modern kitchen was added on in 1840 by Dr. Charles Sturges, son-in-law to Dr. Kissam.In 1967 the house was purchased from the estate of Hilda Taylor by the Huntington Historical society and the restoration and reinterpretation of the interior began in 1984 with significant funding from the Kissam Family and the Huntington Historical Society.
434 Park Avenue
Huntington, 631.427.7045, tours by appointment only
1 Fort Salonga Road
Centerport, 631.754.1180
425 Park Avenue, Huntington
631-351-3244 (Huntington Historian)
Huntington Militia: