This website was created to share with the viewer some of Long Island's historic venues and events. The content on this site was listed as accurate as possible and this site shall not be responsible for any inaccurate information. Please contact the webmaster at: info@visithistoriclongisland.com for more information.
St. James General Store, St. James
Deepwells, St. James
Sherwood-Jayne House, East Setuaket
Suffolk County - North Shore - Brookhaven
Historic Site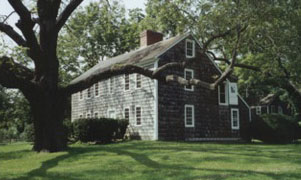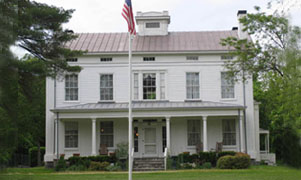 Deepwells was built c. 1845 for Joel L.G. Smith, descendent of Richard "Bull" Smith. It is named for its two brick-lined 125 foot wells. Its architecture is in a 19th century Greek-Revival style and is listed on the National Register of Historic Places. Smith did not own it for long and it passed hands many times. A notable owner was William J. Gaynor, mayor of New York City (1910 -1913). In 1989 Suffolk County acquired the property and is managed by by the Deepwells Farm Historical Society. Check for programs and activities.
In 1857 entrepreneur, Ebenezer Smith, a descendent of Richard "Bull" Smith of Smithtown had the St. James General Store built. In the heart of the business district, this is where the residents purchased their yard goods, kitchen wares, medicine, shoes, horse medicine, tobacco, groceries, hardware and more. The post office also located in the store, made it a central meeting place. Upstairs dances and parties were held and the first telephone was installed here. Through the years each owner preserved the store as a piece of living history. In 1990 Suffolk County purchased the 133 year old store. The store today reflects the period between 1880 and 1910. Come visit and shop where you will find alarge assortment of merchandise is for sale. St James General Store is listed on the National Register of Historic Places.

516 Moriches Road, St. James
631-854.3740
Rt 25 A at the Moriches Road intersection
St. James , 631.854.3719

55 Old Post Road, East Setuaket
631.692.4664
The construction of this house spans from 1730 - 1940. The property encompasses a two story salt box dwelling with a two story "L" shaped rear extension. The house is filled with a collection of furniture and objects. Hand painted floral wallpaper frescoes decorate the east parlor. Out structures include a carriage house, corn crib, prive and pump house. This house is listed on the National Register of Historic Houses.