This website was created to share with the viewer some of Long Island's historic venues and events. The content on this site was listed as accurate as possible and this site shall not be responsible for any inaccurate information. Please contact the webmaster at: info@visithistoriclongisland.com for more information.
Grist Mill, Stony Brook
The Brewster House, Stony Brook
The Thompson House, Setauket
Suffolk County - North Shore - Stony Brook Village
Historic Site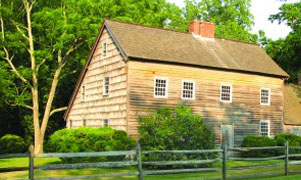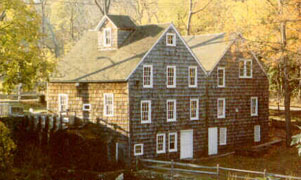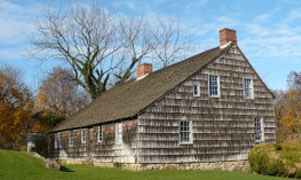 Built in 1665 and considered the oldest house in the Town of Brookhaven, the Brewster House was home to six generations of Brewsters.  The house has transformed over the centuries from the one-room cottage to its present saltbox structure. During the American Revolution, Joseph Brewster operated the house as a tavern and general store, entertaining British troops inside.  American Patriot Caleb Brewster, cousin of the Joseph Brewster and presumably a frequent visitor to the house, was a member of George Washington's spy ring during the Revolutionary War.
1665 anoBuilt in 1709, this five-room saltbox farmhouse is one of the largest houses in the area.   The builder and original owner was Samuel Thompson (1668-1749), a prosperous farmer at the time.  The Thompson House was home to five generations of Thompsons until the year 1887; after that time, it passed through many owners, gradually deteriorating.  Ward Melville, purchased the house. deeded it to The Ward Melville Heritage Organization in 1943, and completed the restoration in 1950.
Educational Field Trip:
Medicine: Past, Present, Future
Learn how 18 Century medical instruments were used to treat illnesses. Visitors participate through role playing, hands-on activities and use of interactive Smart Board technology. By appointment - 631.751.2244
The Grist Mill c. 1751 was built be Adam Smith. The original mill built in 1699 was washed awahy during a flood. The millstones were powered by the water from the millpond across the street. The water flowed under the street to the wheel, turning a series of gears and wheels. The grist mill became the center of the community.The townspeople would exchange news and gossip while waiting for their wheat and corn to be ground. As recent as the 1940's, s farmers brought the wheat and corn to be ground.
100 Harbor Road
Stony Brook, 631-751-2244
111 Main Street
Stony Brook, 631.751.2244
For more information visit:
North Country Road
Setauket, 631.751.2244