This website was created to share with the viewer some of Long Island's historic venues and events. The content on this site was listed as accurate as possible and this site shall not be responsible for any inaccurate information. Please contact the webmaster at: info@visithistoriclongisland.com for revisions or information.
Rogers Mansion, Southampton
Osburn-Jackson House, East Hampton
Thomas Halsey Homestead, Southampton
Plan Your Trip
Suffolk County - South Shore - Southampton/East Hampton
Historic Site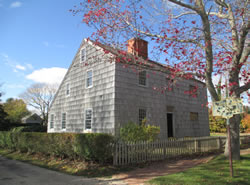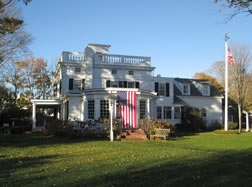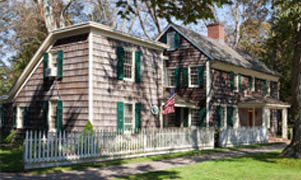 The Osburn-Jackson House, c. 1720 was lived in by six generations of the Osbornes. This period house museum features a display of furnishings of the well-to-do lifestyle of a post colonial East End family. Highlights of the museum include a tall clock, high chest, candle stands and chairs that were built by the Dominy family in their East Hampton workshop between 1780 and 1840.
The Halsey House was built 1660 by Thomas Halsey, one of the original settlers of the Massachusetts Bay Colony and one of the first English to settle on the east end of Long Island. This property was purchased from the Shinnecocks in 1640. The house is believed to be the oldest English-style house in New York State. It contains 17th and 18th century furnishings. There is a Colonial revival-style garden that replicates an 18th century herb garden, perennials and apple orchard.
Originally it was the home to whaling Captain Albert Rogers, c1843. This house is built in a Greek revival-style. In 1899 the house was purchased by Samuel Parrish. In 1911 he began making additions to the house in the Colonial revival-style and by 1914 the house had been doubled in size. This site is supported by the Southampton Colonial Society.
17 Meeting House Lane
Southampton, 631-283-2494
101 Main Street
East Hampton, 631-324-6850
249 South Main Street
Southampton, 631-283-2494