This website was created to share with the viewer some of Long Island's historic venues and events. The content on this site was listed as accurate as possible and this site shall not be responsible for any inaccurate information. Please contact the webmaster at: info@visithistoriclongisland.com for revisions or information.
Custom House, Sag Harbor
Plan Your Trip
Suffolk County - South Shore - Sag Harbor
Historic Site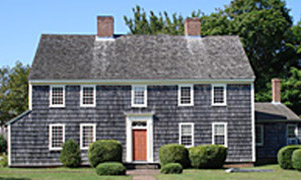 Sag Harbor became a United States port of entry in 1789, with a growing population involved in servicing whalers, coasters and West Indian trade ships. The Custom House was owned by Sag Harbor's first United States Custom Master, Henry Packer Dering. The house displays room settings of a formal dinner, an office, kitchen, pantry, office and laundry.
Main Street and Garden Street
Sag Harbor, 631-692-4664