This website was created to share with the viewer some of Long Island's historic venues and events. The content on this site was listed as accurate as possible and this site shall not be responsible for any inaccurate information. Please contact the webmaster at: info@visithistoriclongisland.com for revisions or information.
Hallockville Museum Farm, Riverhead
Big Duck, Flanders
Suffolk County - Central Region - Riverhead
Historic Site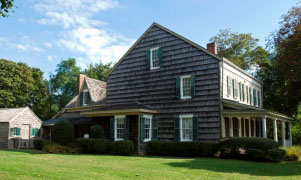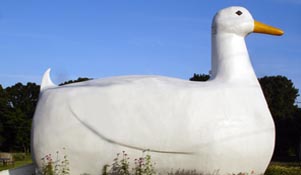 The "duck" was built in 1931 by duck farmers Martin and Jeule Maurer to sell their Peking Ducks and eggs. The original location of the duck was on Main Street in Riverhead. The Big Duck was donated to Suffolk County and in 1988 it was moved to its current location on Route 24. The structure stands 20 ft tall and is 30 ft long. It now operates as an East End tourism bureau. The Big Duck is listed on the National Register.
Built in 1765 Hallockville Farm was once the homestead of Rueben Brown who lived therre sometime after the American Revolution. In 1801 the house and sixty acre farm was sold to Captain Zachariah Hallock for his son Zachariah Hallock, II where his descendents lived in the homestead until 1979. During the 1800s many of the houses were owned by many of the descendants hence giving the reference to the area as "Hallockville." Today the museum has been preserved to interpret the history of farming on the North Fork of Long Island. The Hallockville Farm Campus comprises of a museum and garden and 19 historic houses situated on 28 acres.
6038 Sound Avenue
Riverhead, 631.298.5292
1012 Flanders Road (Route 24)
Flanders, 631.852.3377