This website was created to share with the viewer some of Long Island's historic venues and events. The content on this site was listed as accurate as possible and this site shall not be responsible for any inaccurate information. Please contact the webmaster at: info@visithistoriclongisland.com for more information.
Sands-Willet House, Port Washington
Cedarmere, Roslyn Harbor
Gothic Mill, Cedarmere
Nassau County -North Shore - Town of North Hempstead
Historic Site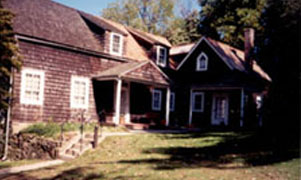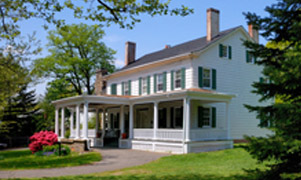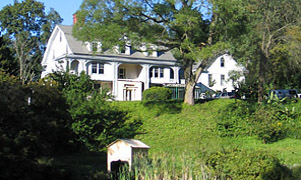 Cedarmere is the historic property of William Cullen Bryant, 19th-century poet, newspaper editor and civic leader. It served as his Long Island home from 1843 to his death in 1878.The oldest section of Cedarmere was constructed in 1787 by a Quaker farmer, Richard Kirk. Bryant had it restored several times afterwards. He also had planted exotic trees and fauna, transforming the estate into an horticultural showplace. Later his grandson added a stone bridge and sunken garden. The house experienced a major fire in 1902 and was rebuilt. Visitors can view exhibits in the house and stroll the property which includes a Gothic mill, pond and rustic stone bridge and small formal garden. Currently closed for restoration.
The Dodge Homestead was acquired by Thomas Dodge in 1721. He originally made a land purchase of 350 acres. In 1898 the land was sold to developers. Henry Thomas Dodge bought back one acre with the homestead. He set aside an antique room where he kept old farm tools and implements which today they are still kept. The house interior in 1721 included an entrance hall, living room and an upstairs with two bedrooms. Years later Thomas Dodge added a dining room, kitchen and weaving room. In the early 20th century the house was expanded once more with porches and dormers. The out structures on the property include a two horse barn, vegetable garden, chicken coop and a vintage outhouse. Thomas Dodge House is listed on the National and State Registers of Historic Places.
The oldest portion of the Sands-Willet house is believed to be built c1735 by the John Sands II, a colonel who served with George Washington during the American Revolution. Many other family members served during the Revolutionary War. The property was purchased by Edmund Willets, a prominent Quaker around 1845. He added a Greek-Revival style addition to the house.The house reflects a typical 18th and 19th centuries Long Island farm house. This 18 room house resides in the incorporated village of Flower Hill on a peninsula once known as "Cow Neck". Behind the Sands-Willet house is the Dutch Barn.
336 Port Washington Blvd
Port Washington, 516-365-9074
Bryant Avenue
Roslyn Harbor, 516-571-8130
58 Harbor Road
Port Washington, 516-365-9074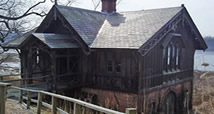 Dodge Homestead, Port Washington