This website was created to share with the viewer some of Long Island's historic venues and events. The content on this site was listed as accurate as possible and this site shall not be responsible for any inaccurate information. Please contact the webmaster at: info@visithistoriclongisland.com for more information.
Sagtikos Manor, West Bay Shore
Gibson-Mack-Holt House, Bay Shore
Meadow Croft, Sayville
Suffolk County - South Shore - Town of Islip
Historic Site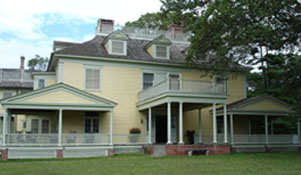 The Gibson Mack-Holt House c.1820 is one of the oldest trademan's houses remaining in Bay Shore. The parlor, kitchen and pantry are restored and furnished to the way a residence would have been in the mid 1800's. Located on the grounds is the original chicken coop which has been restored and which currently houses the Tool Museum. There is also a grape arbor, two-seater outhouse, shed and a Victorian herb garden on the property. There is an extensive reference and memorablia library. Gift shop is open during tour hours. This venue is operated and maintained by the Bay Shore Historical Society.

House open Tuesdays and Saturdays 1 - 4 pm.
Built in 1891 it is the former residence of John Ellis Roosevelt, cousin to President Theodore Roosevelt. The house is divided into 2 sections: 2 mid-nineteenth centry farmhouses and a main portion built in a Colonial Revival style designed by Isaac H Green. The architecture is a fine example of the Colonial Revival style and is listed on the National Register of Historic Places. The house is owned by Suffolk County and supported by the Bayport Historical Society.
Sagtikos Manor is on the National Register of Historic Places. Its history spans over three centuries. The Manor was first built in 1697 by Stephanus Van Cortland with additions added on in 1772 and 1902. British forces occupied the Manor briefly during the Revolutionary War. President George Washington stayed here during his tour of Long Island in 1790. The 42 room Manor has a collection of period rooms furnished by the Thompson-Gardiner family. This 10 acre estate includes a family cemetery, carriage house, buttery and walled garden. The estate was purchased by Suffolk County and is supported by the Sagtikos Manor Historical Society. Take a guided museum house tour led by period-dressed docents from the Sagtikos Manor Historical Society. Tours offered Memorial Day - September. Special events during the year.
Montauk Highway & Manor Lane (& Gardiner)
West Bay Shore , 631-854-0939
22 Maple Avenue
Bay Shore, 631-665-1707
Middle County Road
Sayville, 631-472-4625