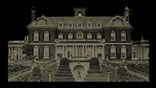 This website was created to share with the viewer some of Long Island's historic venues and events. The content on this site was listed as accurate as possible and this site shall not be responsible for any inaccurate information. Please contact the webmaster at: info@visithistoriclongisland.com for more information.
Old Westbury Gardens, Old Westbury
Mill Neck Manor, Mill Neck
NYIT de Seversky Mansion, Old Westbury
Nassau County - North Shore
Gold Coast Mansions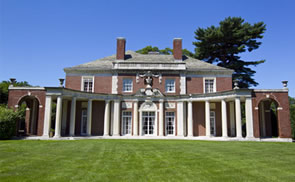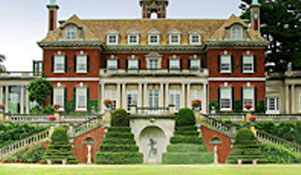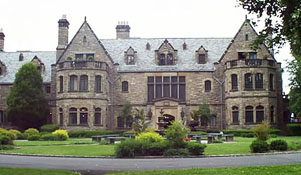 This 34-room Tudor Revival Manor is situated on an 86 acre estate on the North Shore of Long Island. It was the home to Robert Leftwich Dodge and Lillian Sefton Dodge. In 1923 the architectural firm of Clinton & Russell, Wells, Holton & George was retained to design this Manor at a cost of two million dollars. The exterior is covered with granite blocks trimmed in limestone. The interior features stained-glass windows depicting five Shakespearen plays. The landscaping was designed by landscape architect Charles Leavitt. It is on the list of National Register of Historic Places.
In 1916, businessman, inventor, and philanthropist Alfred I. du Pont commissioned architect Thomas Hastings of Carrere & Hastings to design his new Long Island residence. Du Pont's White Eagle, as the neoclassical/Georgian mansion situated on almost 300 acres in Old Westbury was then called, was completed in 1918. After du Pont remarried, he sold the estate in 1926 to Frederick E. and Amy Phipps Guest, who renamed the estate Templeton. There were 13 classic European country-styled bedrooms and parlors, originally designed by Charles of London, and today are used as NYIT offices. In 1972, New York Institute of Technology purchased Templeton from the Guest family and named it after the famous Russian aviator, Alexander P. de Seversky, a member of the NYIT Board of Trustees who was instrumental in the acquisition.
Old Westbury Gardens was home to John S. Phipps and his wife, Margarita Grace Phipps. Completed in 1906 this 44 room, Charles II style mansion was designed by George A. Crawley, an English architect. The house is furnished with English antiques, furniture and decorative arts once owned by the family. Situated on 200 acres the estate consists of formal gardens, landscaped grounds, fountains, ponds and a lake which are quite impressive. Old Westbury Gardens is listed on the National Register of Historic Places.
71 Old Westbury Road
Old Westbury, 516-333-0048
Northern Blvd
Old Westbury, 516-686-7675
40 Frost Mill Road
Mill Neck, 1-800-264- 0662