Colonial Kitchen - 1697
Sagtikos Manor - West Bay Shore
Historic Site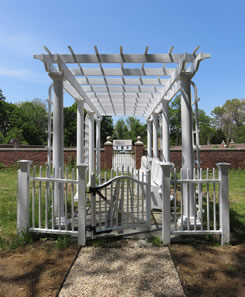 In 1692 one hundred forty-five acres was purchased by Stephanus Van Cortlandt, the first American-born mayor of New York City, from the Secatogue Native Americans. Van Cortlandt built a four room with loft space in 1697.
In the years after his death, the property passed through a few local families' hands. Abraham Thompson, Setauket, purchased the property of nearly 760 acres in 1758. He sent his fifteen year old son, Isaac to manage and farm the land. In 1772 Isacc and his wife, Mary Gardiner (Gardiner's Island) added on ten more rooms. During the American Revolution the British briefly occupied the Manor. President George Washington during his Long Island tour spent the night of April 21, 1790 in one of the upstairs bedroom. The Manor remained in the Gardiner - Thompson Family hands for the next two hundred plus years. In the late 1800's Frederick Diodotti Thompson solely acquired the property. At that time the property had grown to cover over 1200 acres, seven miles north/south from the Great South Bay to approximately where the Northern State intersects along what is now known as the Sagtikos Parkway. He also added on to the Manor to increase the house to include forty two rooms. The Manor has a collection of period rooms furnished by the Thompson-Gardiner family. It is now situated on ten acres and includes the family cemetery, carriage house, buttery and walled garden.
The estate was purchased by Suffolk County in 2002 and is supported by the Sagtikos Manor Historical Society. Take a
guided museum house tour led by period-dressed docents from the Sagtikos Manor Historical Society. Tours are offered June - September. Special events are given throughout the year.
Montauk Highway & Manor Lane (& Gardiner)
West Bay Shore , 631-854-0939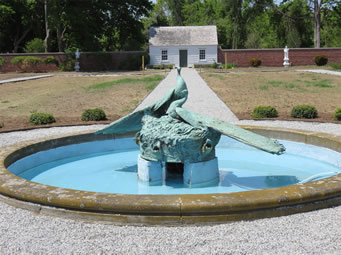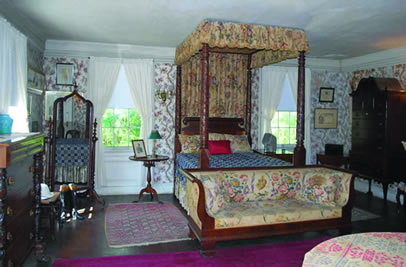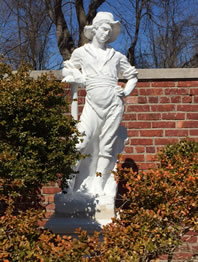 The walled garden is thought to be constructed in the 1920's - 30's with brick work built by Italian masons when Sarah Diodati Gardiner owned the Manor. It's layout is based on a central axis garden plan that showcased roses, boxwood edgings, vegetable garden, grape vines and peony paths. The peacock fountain was sculpted by a local Bay Shore artist, Mary Aldrich Frasier about 1933.

Walled
Garden

Proprietor's Room - 1902

Frederick Diodoti Thompson
Portrait

Peacock Fountain


Portrait

Sagtikos
Manor
History

Sagtikos Manor is on the National Register of Historic Places. Its history spans over three centuries.