This website was created to share with the viewer some of Long Island's historic venues and events. The content on this site was listed as accurate as possible and this site shall not be responsible for any inaccurate information. Please contact the webmaster at: info@visithistoriclongisland.com for more information.
Nassau County Art Museum, Roslyn Harbor
Nassau County Museum of Art
Historic Site/Art Museum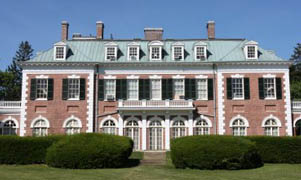 The Nassau County Art Museum is part of a 145 acre parcel which was originally the estate of William Cullen Bryant's "Cedarmere." Bryant was a poet, lawyer, conservationist, preservationist and patron of the arts ans a long time editor of the New York Post. His home was an intellectual and cultural center during the 19th century. It was sold to Lloyd Stephens Bryce in 1900. Byrce commissioned architect Ogden Codman, Jr to design Byrce House (currently the house which houses the Nassau County Art Museum's artwork.) In 1919 Henry Clay Frick, co-founder of US Steel purchased the house for his son Childs Frick and his wife Frances. They hired architect Sir Charles Carrick Allom to redesign the facade and interior of the house. A graduate of Princeton, Childs Frick became a vertebrate paleontologist and naturalist. On the estate he established a monkey house, aviary and a bear pit and a pool for otters. His wife, Frances shared her husband's interet in botany. She retained Marion Cruger Coffin, a fellow of the American Institute of Landscape Architects to redeisgn the formal garden. The 450- foot garden was divided into four sections surrounded by yew hedges and volunteer labor helped to restore the Milliken-Bebin teak trellis and maintain the the rose and azalea gardens.
1 Museum Drive
Roslyn Harbor, 516.484.9338
Childs died in 1965 and four years later the property was purchased by Nassau County who eventually established the Nassau County of Fine Arts. And in 1989 it became a private not-for-profit institution. The Nassau County Art Museum is dedicated to fostering a greater understanding of the arts with concentration on the 19th, 20th and 21st centuries. In addition to the permanent collection of more than 500 art objects, the museum presents major rotating exhibitions annually. The surrounding 145 acres had been designated as a nature preserve. Walk the eight marked trails and view collections of conifers, steep forested ravines, yound woodlands, forest borders and various forest types which include Tulip tree, American beech, oak, hickory and maple. Stroll through the Sculpture Park and view more than 40 sculptures by works of Tom Otterness, Feranando Botero, MasayukiNagare, Richard Serra and many others.