This website was created to share with the viewer some of Long Island's historic venues and events. The content on this site was listed as accurate as possible and this site shall not be responsible for any inaccurate information. Please contact the webmaster at: info@visithistoriclongisland.com for revisions or information.
Clinton Academy, East Hampton
Mulford Farm, East Hampton
Town House, East Hampton
Plan Your Trip
Suffolk County - South Shore - East Hampton
Historic Site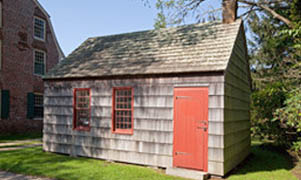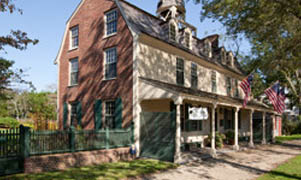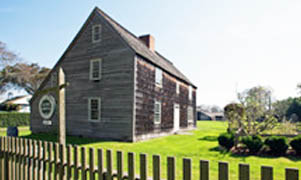 The Mulford Farm c. 1680 is a fine example of an English Colonial farmstead. It is viewed as an artifact which depicts how it fit the needs of its inhabitants and how it shaped the origins of New England Society. Since 1750 the framing and wood members of the house has remained intact and tell the story of successive changes over time. The Mulford Farm is listed on the National Register of Historic Places.
The Town House c. 1785 served as a one-room schoolhouse and is unique as it is also the only existing town government meeting place to survive from the Colonial period. After 1845, the building was continued to be used as a meeting place and was later used as a barbershop, interior decorator's studio and town welfare facility during the Depression.
Constructed in 1784, at the request of Reverend Samuel Buell, Clinton Academy was one of the first academies chartered by the Board of Regents in New York State. It was a coeducational institution preparing young men for careers in seafaring or surveying and young women for spiritual reading and finer points of being a lady. This building was restored in 1921 and is an example of late style Georgian architecture. Visit the Mimi Neehan Native Plant Garden behind the building.
151 Main Street
East Hampton, 631-324-6850
149 Main Street
East Hampton, 631-324-6850
10 James Lane
East Hampton, 631-324-6850