This website was created to share with the viewer some of Long Island's historic venues and events. The content on this site was listed as accurate as possible and this site shall not be responsible for any inaccurate information. Please contact the webmaster at: info@visithistoriclongisland.com for more information.
Mills Pond House, St. James
Brookwood Hall, Islip
Suffolk County - Historic Houses/Art Museums/Galleries
Historic Site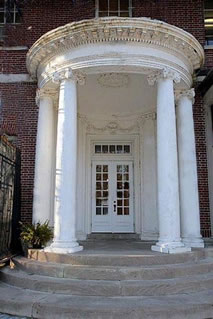 This Georgian Revial house was built in 1903 by Harry K. Knapp of Manhattan as a summer home which extended on eighty acres. In 1929 it was sold to Francis B. Thorne, a wealthy stockbroker and philanthropist where he maintained the residence not only as a home, but as a cultural center. It was left to his son, Francis Thorne, Jr who became an accomplished musician and classical composer. After the Great Depression and then the Nazi landing in Amagansett scared Mrs. Thorne into leaving the house and retreating to upstate NY. In 1942 the estate was sold to the Orphan Asylum Society of Brooklyn who needed a place for their growing group of indigent children. The house was used to house as many as 72 orphans. The wards would grown their own produce and it became well known for its Victory Gardens. In 1965 the institution closed because there was no longer a need for the institution because of the development of the foster care system. It was sold to developers Alfred and Fred Wimmer, who then sold it to the Town of Islip on January 6, 1967 for $385.000.
Today the Islip Arts Council resides in the building offering classes in fine art, music and theatre. It is also home to the Islip Art Museum in which the Islip Arts Council provides art exhibits, lectures and workshops. On premises is a museum store featuring one-of-kind craft items, art work, gifts and fine jewelry
The original house was built by Timothy Mills c.1700. It was partially destroyed by a fire. In 1838 William Wickham Mills, descendant of Timothy restored the damaged part of the house and added on a three-story addition.The house was designed by noted New York City architect Calvin Pollard. The house was passed down to Dubois Smith, grandson and then to his two daughters, Josephine and Mildred Smith. The house was donated to the Town of Smithtown in 1976. Today the Smithtown Township Arts Council exhibits works of regional and national artists. They also offer art classes and hold special events.
660 Route 25A
St. James, 631-862-6575
50 Irish Lane
Islip, 631.224.5420